Muster 2016

October 29th / 30th
---
DAY 1
The Road Ride
This year saw 19 riders take part in the road ride through the hills of the Barossa and Adelaide hills. After a short riders briefing on how the day was going to run, we left just after 10am with Paul from Qld having problems due to leaving his keys at home. That being back in Qld, so he followed us in his Ute for a short while.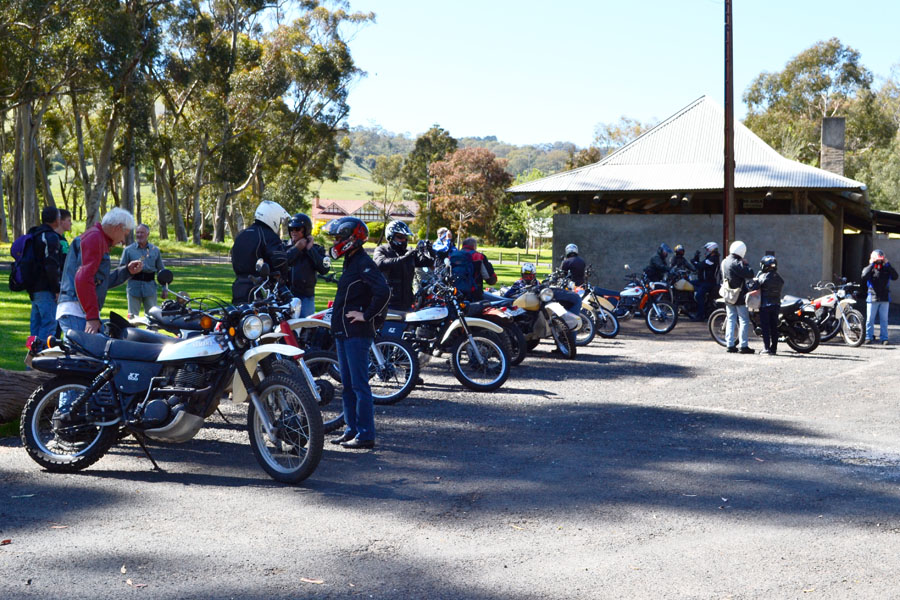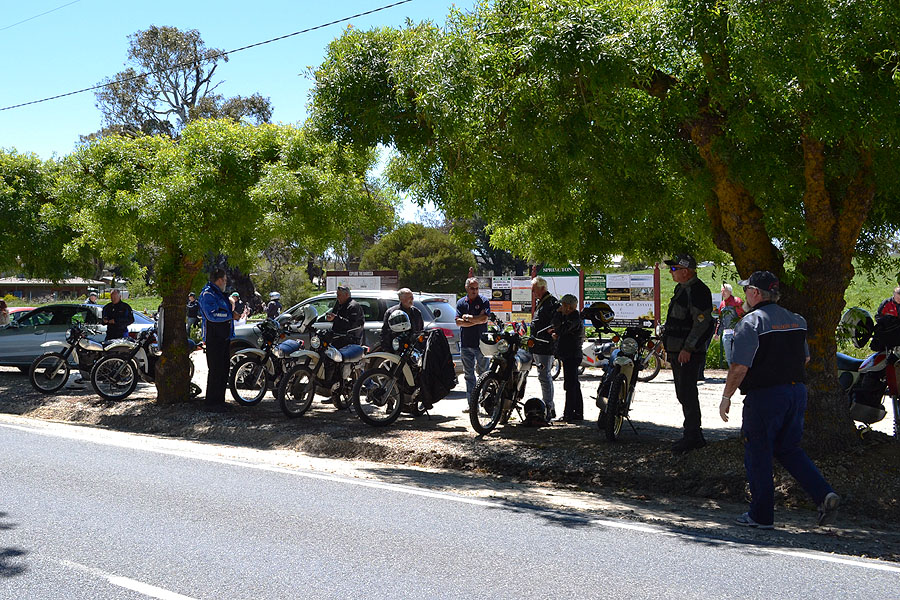 We travelled through Tanunda and out through the picturesque Seppeltsfield before taking a stop at the Greenock oval. This is where we discussed on this being an alternate venue to the Bethany Reserve. This is also where Paul followed 1 of our committee riders, John, back to his place to get a loan of 1 of his bikes, they join up with us as we past through Nuriootpa. From here it was off to Angaston and Keyneton and then on through Eden Valley with us then stopping at the Herbig tree in Springton. We stopped here in 2006 and it was nice to stop here again.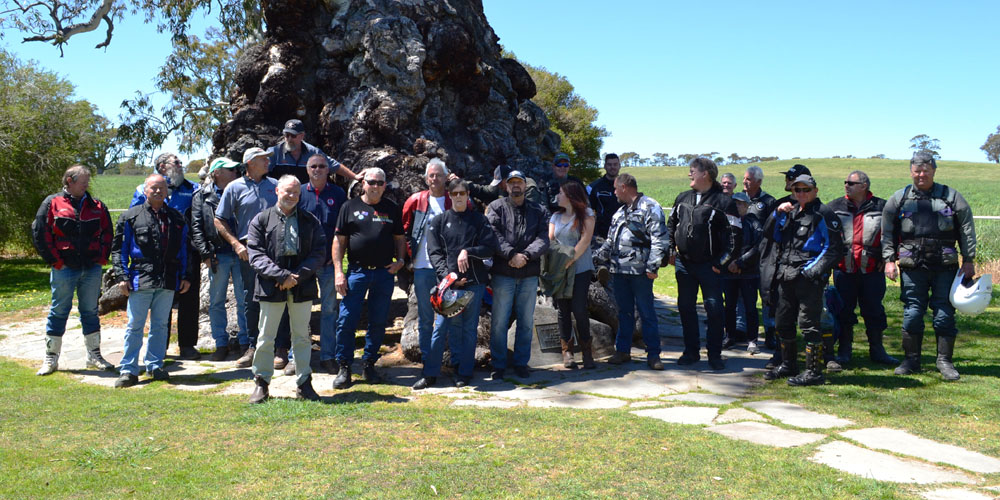 Then it was off to Gumeracha for lunch at the big rocking horse, but first a quick stop in Birdwood to top up the tanks.
After lunch it was time for the return trip but using roads that we haven't used for a while. It was off through Gumeracha with a left off towards Lobethal and then to Cuddly Creek. This is where the corner man system really came into play and worked well. We headed back towards Williamstown but not before going over Checker Hill Rd which quite regularly gets used by the Tour Down Under, then on to Williamstown and then for a quick stop at the Whispering Wall, (Barossa Reservoir).
After the boys finished their ice creams, it was time to get back to Bethany going via Cockatoo Valley and Lyndoch. We arrived back at the Bethany Reserve at around 4pm and had travelled close on 180kms. That seemed to be enough for these people that only do short rides a couple time a year.
Saturday Night Dinner



Saturday night saw us go back to the popular Tanunda Club House for our dinner get together. This year we were put out along the picturesque back wall due to having more then 36 coming along for the meal. It was a great night with great food and great friends catching up on small talk and about the days ride. Some of the attendees decided on having deserts which then encouraged others to do the same. Everyone must have enjoyed them as there were no complaints. Everyone left by about 10.30pm so it was an early night to get ready for Sunday's "Show'n'Display" day.
---
Day 2

Sunday

On Sunday, we saw 82 bikes turn up for the show'n'display day with 21 new bikes on the registrations being taken at the sign in.
After a beautiful warm spring day on Saturday the weather turned and it was a lot cooler with a few showers later in the day. It was great to see the 82 bikes that turned up to help celebrate the 40th anniversary of the TT and XT500s this year.
We decided to set up a little differently this year knowing that there should be a lot more "C" models there for the celebrations. We lined them all up in 2 rows with the TTs be the dominant number so they had front row. It still looked very impressive with the 82 bikes there on display but we do believe that the weather change kept some of the locals away.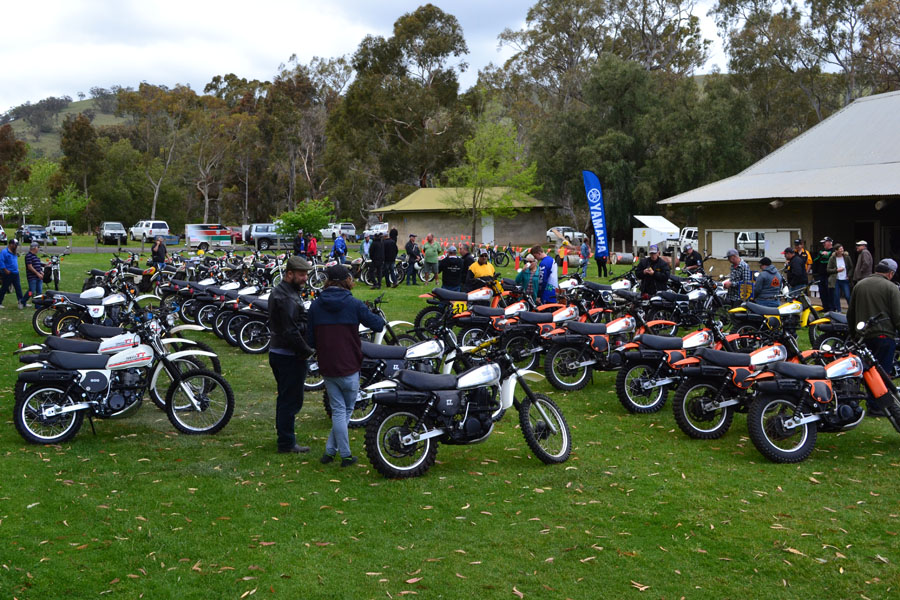 The day got underway from 10.30 with nearly all the bikes here on display and at 11.30am the first of 2 Moto Trial displays got underway. After the 1st demonstration, the judging got underway just before the 1st of the showers arrived.  At 1.30 the 2nd demo took place over some wet and slippery obstacles which made it very interesting viewing. Then at the completion of the demo, the silent auction was closed and at 2pm the awards were given out.
The committee would like to thank all out sponsors that help us out and to all the people that attend this event. Without you it wouldn't happen and it wouldn't be the same. We have made so many friends through the running of this event and make even more new 1's each time we run it. This gives us so much pleasure and satisfaction that we just keep on going and 1 day we will reach that magical 100 bikes at The Muster.
In 2017, the TT/XT 500 Muster will be staying in the Barossa Valley at the Bethany Reserve as we have picked up a sponsor to remain at the favourite location. We can say that it will be again held on the last weekend in October on the 28th and 29th. We would love to see as many 500 enthusiasts here as possible (with your bikes) and join in the festivities of the Yamaha TT XT 500 Muster 2017. So please let your friends and other 500 enthusiasts know of this event or even put them on to this web site to see for them what a great weekend it is.
Once again the Muster team would like to thank Rob Francis for many of the additional photos used and a thankyou to Chris Caust for looking after and setting up the new web site for us.